Last Friday Sandy Koufax was chatting with fans at the Dodgers' spring base in Glendale, Ariz.

This photo was taken by

Abe Schear

, the Atlanta attorney who has been interviewing baseball people for years.

Later, Koufax was hit in the head by a line drive off the bat of Andre Ethier. He was conscious, with some blood on the side of his head, as he sat on a cart while being taken for treatment in the clubhouse. Koufax, who serves as an adviser and occasional tutor to young Dodger pitchers, assured reporters and players that he was fine. The story:

http://espn.go.com/los-angeles/mlb/story/_/id/10496606/sandy-koufax-hit-head-foul-los-angeles-dodgers-spring-training

In another Brooklyn angle, MLB has come up with a video from spring training of 1945. Because of wartime travel restrictions, the Brooklyn Dodgers were training at Bear Mountain, above the Hudson River, north of New York City.

The video was sent to me by the former Mets pitcher, Bill Wakefield:

http://wapc.mlb.com/cutfour/2014/02/20/68015582/brooklyn-dodgers-spring-training-69-years-ago

Leo (The Lip) Durocher, the manager, candidly says in that brassy voice of his that the Dodgers can't get much worse, since they finished seventh the year before. Leo always did have opinions. He fusses at his wartime players, perhaps knowing that the Dodgers have stockpiled players named Hodges and Snider when the players come back from war.

Spotted briefly on the scruffy looking diamond are Dixie Walker (wearing No. 14 instead of No. 11) and Tommy Brown, (No. 9), all of 17 years old.

Also on the roster is Ben Chapman, the old Yankee outfielder, who was hanging on –

as a pitcher

. Chapman would pitch 10 games for the Dodgers that year. In 1947, he would become infamous as the Phillies' manager, for

racial heckling

of Jackie Robinson. I never knew, until now, that Chapman had passed through the Dodgers toward the end of the war.

In 1947, when Chapman was not directing vile words from the dugout, Chapman and Robinson posed for a photo. My friend the photographer, John McDermott, wonders if we should even look at a photo of Chapman. I mainly stuck it on here because I was intrigued upon learning Chapman pitched for the Dodgers in 1945. John has a point.,
Powered by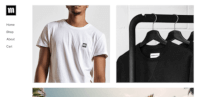 Create your own unique website with customizable templates.