Looking for a poem about work, for my visit to a New York high school, I came across "Let America Be America Again," by Langston Hughes. It is as contemporary as the current flap over Rudolph Giuliani's comments about President Obama.

The President, a graceful writer, has often talked about his love for America, as it is, as it could be. Giuliani, particularly disappointingly for a New Yorker, deliberately overlooks the

President's body of work.


Langston Hughes, writing in a time of lynching and outright segregation, begins his poem this way:

Let America be America again.
Let it be the dream it used to be.
Let it be the pioneer on the plain
Seeking a home where he himself is free.

(America never was America to me.)

Hughes then touches on the aspirations in this country:



I am the poor white, fooled and pushed apart,
I am the Negro bearing slavery's scars.
I am the red man driven from the land,
I am the immigrant clutching the hope I seek--
And finding only the same old stupid plan
Of dog eat dog, of mighty crush the weak.

But near the end, Hughes raises what sounds to me like a prayer of hope:

O, let America be America again--
The land that never has been yet--
And yet must be--the land where every man is free.
The land that's mine--the poor man's, Indian's, Negro's, ME--
Who made America,
Whose sweat and blood, whose faith and pain,
Whose hand at the foundry, whose plow in the rain,
Must bring back our mighty dream again.



The high-school class I visited had mature young people from other lands -- young women in head scarves, several young men from Asia, a young woman from Mexico about to begin an internship, a young woman from Ecuador who in two years has learned to speak English almost perfectly.

It's Black History Month. I wanted them to share the hope I feel when I listen to President Obama, the hope I feel when I

listen to Langston Hughes

.

The poem:

http://www.poemhunter.com/poem/let-america-be-america-again/

On Tuesday, Feb. 24 at 9 PM, Terrance McKnight will host a show about the pianist Hazel Scott on WQXR-FM.

http://www.wqxr.org/#!/series/black-history-month-2015/

And as a bonus, here is "I've Known Rivers," a jazz version of Hughes' poem, "The Negro Speaks of Rivers," performed by Gary Bartz:
Powered by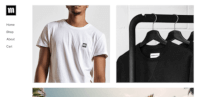 Create your own unique website with customizable templates.