During the Siege, Myrtle and Broadway, 1973. NY Times Photo by Barton Silverman, who just retired this week.

Myrtle Avenue. Even before Saturday, the name made me hear the terrible sound of police knuckles against steel lockers in the back room of the station house, the curses and the cries and the helplessness.

That memory is from

the dark days of January of 1973

, when a police officer was killed on duty under bisecting elevated trains at the intersection of Myrtle and Broadway in the Bushwick neighborhood.

Last Saturday it happened again, four blocks away at the corner of Tompkins and Myrtle, in adjacent Bedford-Stuyvesant.

Two officers were assassinated

as they sat in their car. It never ends.

In 1973,

Officer Stephen R. Gilroy

was killed during a botched robbery at a sporting goods store, when four young men, caught up in an American Black Muslim rivalry, had tried to arm themselves.

For two days, the Bushwick neighborhood was shut down, power to the El cut off. But no more shots were fired because one of the great cops of New York,

Deputy Commissioner Benjamin Ward,

used modern siege tactics to wait out the men inside. At 1 o'clock on a Sunday afternoon, promised they would not be gunned down, the men surrendered.

As part of the huge Times contingent that weekend, I was posted at the station house when three of the men (one went to the hospital) were booked, as officers pounded their lockers in frustration.

I also covered Stephen Gilroy's funeral a few days later. To this day, I cannot hear bagpipes without thinking of the family coming out of the handsome old church in Brooklyn.

This year Americans have learned about senseless deaths in Ferguson, Mo., and Staten Island. I've read the stories, seen the videos, heard the interviews, parsed the testimony, second-guessed the grand jury work. My conclusion is that the tactics that Benjamin Ward espoused – patience, logic, fairness, rules, and, yes, toughness – would have kept Michael Brown and Eric Garner very much alive.

Benjamin Ward later became New York's first African-American police commissioner. I thought of him this summer when I visited the intersection of Myrtle and Broadway. Somebody is doing a reprise of the siege, and I was dredging up my memories, as one of the younger reporters on the scene that sad weekend.

In late August young (white) people were clumping down the steep staircase from the El, lugging roller suitcases, moving into Bushwick, to rehabbed houses on side streets. I had lunch in a hipster place where they served crispy kale. The sporting goods store is now a

peluqueria

– a hair salon. All 12 chairs were busy on a summer Saturday morning. Life was going on.

In the wake of Brown and Garner and other needless deaths, most protests have been peaceful, as if people had heard of Gandhi and King and John Lewis, but on the nearby Brooklyn Bridge somebody threw a garbage can at police and others jumped cops who were keeping the peace. All I know is,

Violence begets violence

.
Powered by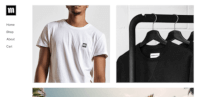 Create your own unique website with customizable templates.