Even while I'm typing something else, I can hear the electronic ping of the messages, over the transom.

My friends and family post songs and photos, poems and videos. We all know the blessing of having friends in Brazil and Japan, Canada and Mexico.

It's so easy these days.

My new email friend, Hassan in Yorkshire, writes about soccer and justice and music. There's a common thread, I am sure.

The other day he sent me a photo from visiting London in snow. I've been to London, what, 50 times and have never seen snow. But there it was, Berkeley Square. My wife and I have walked uphill through that square at night, usually around 10:30, after the National Theatre, and we were tired and happy. But never in snow.

Hassan knows I consider Nina Simone one of the great masters. He found a video of her signature piano -- you always know it's Simone, before she even sings a note. Somehow, she makes bells peal in a riff from Good King Wenceslas before drifting into Little Girl Blue.

In this amazing new electronic age, a gift from Yorkshire,






Powered by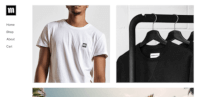 Create your own unique website with customizable templates.